Thanksgiving Turkey Frying Tips & Tricks
11/17/2021 (Permalink)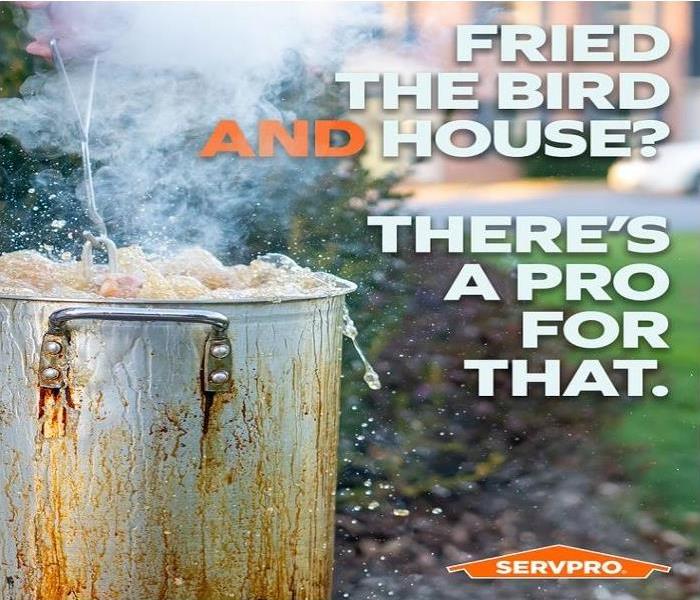 If you experience fire or smoke damage while cooking the Thanksgiving feast, call your local SERVPRO fire cleanup professionals!
Thanksgiving is right around the corner and there is nothing better than a deep-fried turkey during the holidays! Unfortunately, that also means a rise in house fires. It is estimated that 1000 house fires that occur during the holidays are related to turkey fryers. SERVPRO of Monterey Park would like to share a few things to be mindful of when preparing your Thanksgiving meal to keep yourself from having a house fire:
Keep outdoor deep-fryers off decks, out of garages, and a safe distance from trees and buildings.
Make sure the turkey is thawed and dry before cooking
Place the fryer on a level surface
Follow the manufacture instructions
Never leave the fryer unattended.
Turn the burner off before lowering the turkey into the oil. Once the turkey is submerged, turn the burner on.
Keep children and pets away from the fryer at all times.
Once finished, remove the pot from the burner; place it on a level surface and cover to let the oil cool overnight before disposing of.
SERVPRO of Monterey Park wishes everyone a safe and happy Thanksgiving Holiday. In the unfortunate event of fire or smoke damage, we are available 24/7. Call us @ 626-656-6577