Flood Damage Cleanup and Repair in Monterey Park, CA
5/7/2022 (Permalink)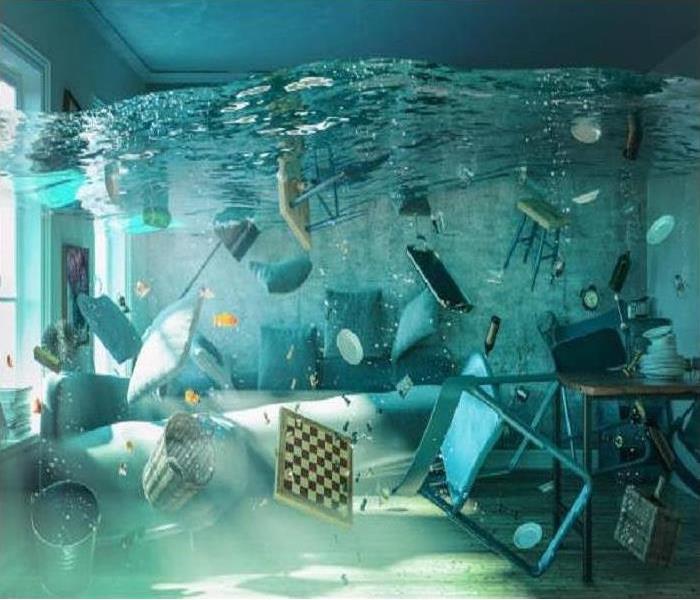 Flooding can be extremely overwhelming. If you're experiencing a flood loss: Contact us -- We're here to help (626) 656-6577
Our Certified SERVPRO Technicians Have the Experience and the Equipment to Handle Flood Disasters of Any Scale
One of the biggest nightmares any homeowner in Monterey Park can experience is a storm flood. If you have been an unfortunate victim of flood damage, there are certain procedures you should follow as you look to restore your property. If you are in the middle of an emergency, your best bet is to contact a reputable restoration company.

As a locally based company and a trusted leader in the restoration industry, SERVPRO is conveniently located to respond quickly to flood damage emergencies in Monterey Park. We have a large team of IICRC-certified technicians who are properly equipped and highly experienced to restore any water-damaged properties to preloss conditions quickly and efficiently, "Like it never even happened."

Whenever your home experiences considerable flood damage, the first course of action should be to vacate the building and then inspect for safety issues before reentering. Once you call SERVPRO of Monterey Park, our technicians can come in and evaluate the extent of the damage. This step involves checking for structural damage, electrical issues, and possible health effects that may come into play when performing flood damage repair and cleanup.

After addressing all major safety concerns, SERVPRO flood damage restoration professionals can move in and begin the actual cleanup process. It is essential to document all flood damage sustained for insurance purposes. This means taking pictures of the flooded areas, damaged furniture, and other house contents, and holding on to any repair bills you may incur along the way. The compensation procedure after a flood can be tricky; so, the more documentation papers you have, the better.

The dirty work begins after carefully documenting all the damage. It is important to carry out the drying and cleanup process as quickly as possible to prevent additional damage and possible mold growth. Mold growth can lead to mold damage, which can in turn cause mold-related health effects.

Our technicians use advanced extraction equipment to pump out any standing water, and then set up fans and dehumidifiers for the drying part. Hiring a flood damage repair expert for this stage is always a good investment. Apart from having access to the right equipment, the knowledge and experience of working on numerous flood damage projects is useful to ensure a speedy and efficient cleanup process.

Storms and floods are a reminder of the force of Mother Nature. While they are unpredictable, you can count on SERVPRO of Monterey Park for local flood damage restoration services. For any questions, you can reach us anytime at (626) 656-6577.